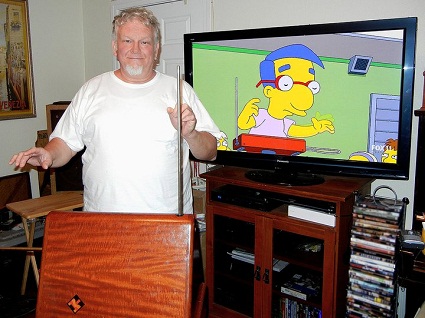 If you happened to catch last night's episode of The Simpsons, you might have seen Millhouse performing a love song for Lisa on a theremin! Don't worry if you missed the airing, you can watch it online for free here.
In the episode, Homer Scissorhands, Bart's friend Millhouse (extra points if you can tell us his whole name) decides to profess his love for Lisa after watching Chapter 1 of Finding Nemo and realizing just how short and precious life can be. Of course, what better way to dedicate yourself to someone than life theremin playing in the school cafeteria? Lisa turns him down, of course, which works out to Millhouse's advantage as he meets a new interest who thought his effort shouldn't go unnoticed. As Millhouse rolls the theremin back to the AV closet, Principal Skinner quips "That theremin has paid for itself over and over..." Oh, the drama!
The theremin in this episode was performed by veteran thereminist Charles Richard Lester, who also recently announced he is playing the theremin part in a re-recording of the soundtrack to the classic suspense film, The Red House. Congratulations to CRL for landing some great theremin jobs!