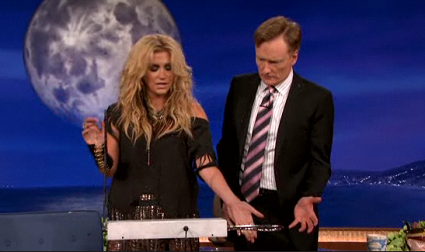 It's been a big week for theremin exposure on national TV. If Millhouse playing a theremin wasn't enough, last night Ke$ha demonstrated how she "plays" her theremin on the Conan O'Brien show.
Unfortunately, Conan also perpetuated the myth that a theremin was used in Good Vibrations, but we'll forgive him that and just blame his fact-checkers instead.
This isn't, of course, the first time a theremin has been seen on a late night TV talk show. That honor probably goes to Dr. Samuel Hoffman for his appearence on The Johnny Carson Show on Feb 16, 1956. Anyone know of an earlier instance?
Historical in-significance aside, you might still find the clip entertaining. You can watch the Ke$ha interview here. The theremin bit lasts about a minute and starts around the 5 minute mark.