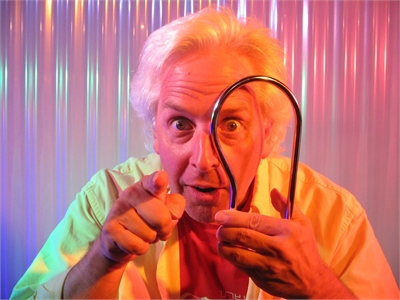 Thereminist Kip Rosser has been selected to both appear in and compose the score to an upcoming feature film, An Idle Mind Is The Devil's Playground, by Michael Jason Allen.
The film is described as a "psychological thriller":
"It is November of 1960 and retired musician Sid Kottler has been living alone in his over-sized home for the past 13 years. His severe case of anthropophobia prevents him from entertaining the company of anyone... or even the slightest of human interaction. When he awakens one morning with an unforgettable character he recognizes from a very recent encounter of sorts, he realizes that he may not be alone anymore. In fact, Sid may even play party host to an ensemble of friends... but not by invitation".
You can see a short teaser of the black and white film at Allen's website: hesaidshesaidproductions.com.
Rosser is a performance artist and thereminist known among our community for his music and his lengthy series of theremin tutorial videos. In the film, he will play the character Claude. Visit PerformanceKR.com to learn more about Kip and his various works.
Allen is an award-winning writer and director who recently won the Great Lakes International Film Festival for his film, The Coldest Kiss. The film also received nominations for Best Actor, Best Director and Best Feature at the Trail Dance Film Festival.
Congratulations to Kip Rosser for being chosen! We're looking forward to an eerie theremin-laden score to the film. We'll post updates as production progresses.