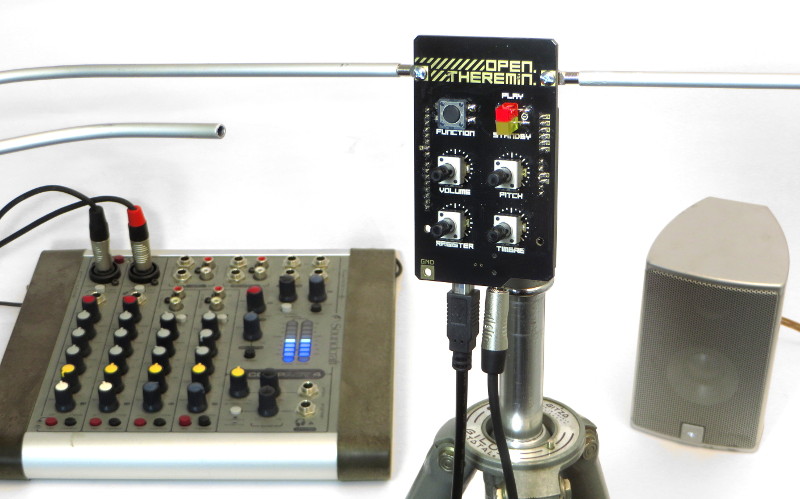 A Theremin Academy will be held in Lausanne (Switzerland) from January 31st to February 2nd, 2020
Besides a huge common program for all participants, including :
a common Swiss Fondue Dinner on Friday night
a workshop by Carolina Eyck explaining and demonstrating her current setup for improvising on the theremin and singing with Ableton Live and surround sound
a round table expert discussion with Carolina Eyck, Coralie Ehinger, and Thierry Frenkel
a demonstration of the enhanced musical saw with piezo elements by Alexis Faucomprez
a common Theremin Orchestra workshop, guided by Thierry Frenkel
a final student's concert (open stage)
many options may be added "à la carte" :
A Theremin and Synth workshop by Coralie Ehinger and Alain Gillièron (CEO of the WaveLicker company)
A Theremin chamber music class, conducted by Thierry Frenkel
A "Build your own Open.Theremin v3" workshop (more details see below)
Individual Theremin lessons by Carolina Eyck, Coralie Ehinger, and Thierry Frenkel
Theremin re-tuning and upgrade service by Thierry Frenkel
About the Open.Theremin v3:
The Open.Theremin UNO is an open source project started by the Swiss engineer Urs Gaudenz. Engineers, software developers, and musicians around the globe have contributed to greatly improve it over time.
Thierry Frenkel has added a contribution, too, a few years ago: A piece of software which uses the Arduino UNO to generate wavetable data, giving the Open.Theremin a range of timbres emulating the wave shaping of the Moog Etherwave theremins, which could then be compiled into the firmware.
Now, with the further improved v3, the Open.Theremin is still more mature: Auto-calibration of the pitch and volume oscillators with added manual fine tuning, register switching, up to eight timbre presets, Midi and CV options make it an easy to build and good music instrument. Read more about it on the Open.Theremin v3 website.
People might either book the full academy participation and add the Open.Theremin building as an option "à la carte" or they may just sign up for the "Open.Only" package (all workshops on Sunday 02/02/2020). More info and registration here: https://theremin.academy/academies-2020/lausanne-2020/