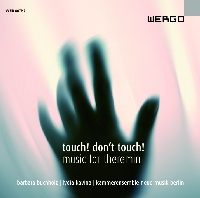 The CD for Barbara Buchholz and Lydia Kavina's recent collaborative project, Touch! Don't Touch! is now available to purchase online for 18,50 Euros from Wergo.
According to the liner notes:
On "Touch! Don't Touch!" Lydia Kavina and Barbara Buchholz pick up the thread of theremin history with new compositions. Eight German and Russian composers were commissioned to write pieces for two theremins and instrumental ensemble. They followed the maxim that there should be no limits to the sound; everything should be possible.
Let's hope we can hear some cuts from this album on Spellbound soon! I'm awaiting my copy now and will post a review as soon as I get it. If it's anything like Barbara's last album, Theremin: Russia With Love, we're in for a real treat.