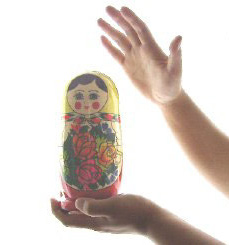 One can argue it's not really news that a site is reporting old news, but since Gizmodo is read by hundreds of thousands (if not millions) of folks every day, I'm going to give them bonus points and a nod for World Thereminization.
The mega-popular gadget blog is running a story about the Matryomin theremin today including a video from YouTube of Masami Takeuchi working his magic. Thanks for the exposure, Gizmodo!
If you're just learning about the theremin for the first time, welcome to Theremin World! To get started, why not check out our What's a Theremin? page, and then head on over to the forums or learn more about buying a theremin.
And if you're hungry for more Matryomin, check out this video of a Matryomin ensemple playing "Song of Mabel" or visit Mandarin Electon, where you can buy Matryomins or even cat costumes for your Etherwave!
Link: Matryomin Theremin Kicks Out Some Weird Jams (Gizmodo.com)