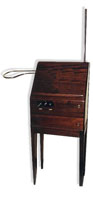 RCA Theremin Photo: American Museum Of Radio and Electricity

We got an update for our RCA registry page.

It was a perfectly timed reminder of a truly rare and valuable theremin that sold at auction several years ago. You can even make arrangements and play this RCA at the The American Museum Of Radio and Electricity in Bellingham WA.

This RCA Theremin Model AR 1264, No. 200085, and companion RCA Model 106 Electro-Dynamic Loudspeaker were sold at auction on Sunday, October 27th, 2002 at Skinners Auction House. They had not turned it on because they do not guarantee anything to be in working order. The consigner said that the Theremin belonged to her grandfather, and it had been sitting up in their attic for several years. And was purchased for the Museum by John Jenkins.
The Museum also has a Moog EtherWave Standard visitors can play, and they provided a lot of workshops in electronics, including the theremin and it's history.

They feature it on their exhibits page:
""
The Theremin: The world's first electronic musical instrument
Play an authentic 1929 Theremin, the most important and influential electronic instrument ever made! The American Museum of Radio and Electricity is one of the few places in the world where visitors can create for themselves the unmistakable, eerie sounds used in countless films and musical arrangements...
""

Although they do still erroneously credit the theremin to a certain surf-rock hit,
It's a great chance to play both a classic RCA and a Moog EWStandard.

American Museum of Radio and Electricity
1312 Bay Street
Bellingham, WA 98225
phone: 360-738-3886

many thanks to member W.W. for the updated info!