Up until his departure for Europe and the United States in 1927, Lev Termen (known as Leon Theremin in the US) lived in St. Petersburg, Russia, at Mapata 50. Mapata 50 was a place of major intersections for the St. Petersburg music world.

The building was built in 1883 by Mitrofan Belyayev. Belyayev came from a rich family of lumber merchants, and was a trained viola player and chamber music enthusiast. He eventually hosted some of the most important chamber music salons of 19th century Russia, and his circle of musician friends became known as the Belyayev Circle.

Composers Borodin, and Rimsky-Korsakov lived at Mapata 50 as permanent guests. Every Friday they were joined by composers the like of Tchaikovsky, Taneyev, Skryabin, and Glazunov for a music salon hosted by Belyayev. The composers were required to bring new chamber ensemble compositions and if they forgot they wrote them there on the spot! In 1884 Belyayev established the annual "Glinka prize". The award became prestigious and in the first years the winners included Borodin, Tchaikovsky, Rimsky-Korsakov, and Cui.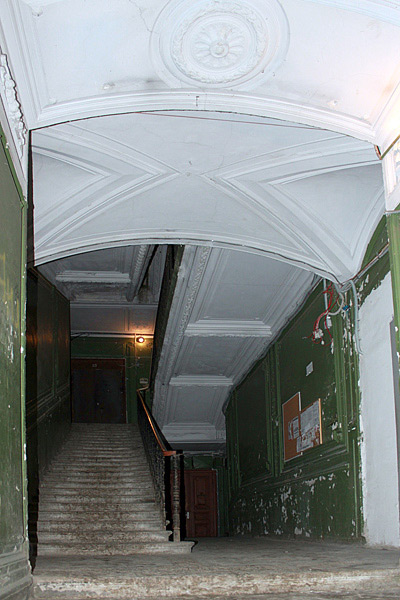 Dancers and other artists lived in the building as well and though we can only speculate, it seems very likely this rich creative hive helped inspire Lev's cello studies and his love of music and musicians which led him to invent the greatest and simplest electronic music instrument: the theremin.

Many thanks to theremin scholar Sergei Teterin and thereminst Vladimir Kitlyar for identifying Lev's early home. Sergei runs the CYLAND MediaLab and Vladimir performs regularly in St. Petersburg, they were both part of the Clara Rockmore centennial celebration at the Frants Gallery here in New York.