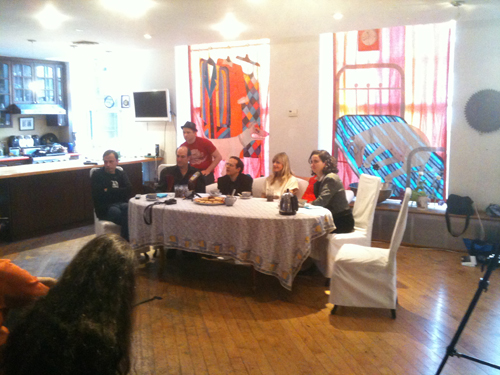 Before the party started to celebrate Clara Rockmore's 100th birthday, there was a round table discussion about the theremin and Clara's legacy to it's players. The group included prominent theremin players and scholars: Lydia Kavina (prima thereminst hosted by video link from Oxford), Steve Sherman (president Nadia Reisenberg and Clara Rockmore Foundation) Albert Glinski (composer, biographer of Leo Theremin), Dorit Chrysler (the American singer and thereminist), Rob Schwimmer (composer and thereminist), Olivia Mattis (musicologist, organizer of The First International Theremin festival in Portland), Vladimir Kitlyar (avantgardist thereminist from Russia) Sergei Teterin (media artist, theorist and scholar of theremin culture).

Frants Gallery's video of the discussion is on line at Vimeo thanks to Sergey Teterin, and he's posted a video of highlights from the evening featuring Steve Sherman's opening comments and Lydia's video concert. There's also a version with Russian voice over.

Many thanks to TW friends Vladimir Kitlyar and Sergey Teterin!