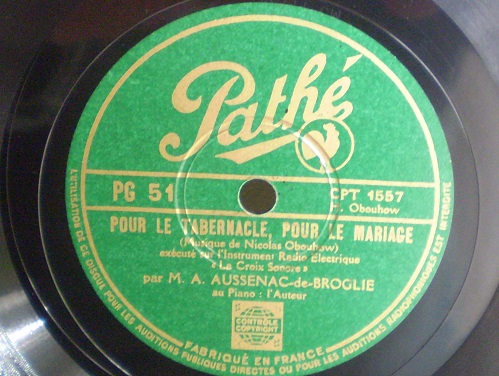 To be honest, I had not heard much about La Croix Sonore (or "Sonorous Cross") until today, and I am now intrigued. I am intrigued not only because it is very similar to the theremin, only a handful were built in 1926 by a Russian composer, but because a rare recording of the instrument is currently being sold at auction
.
According to Wikipedia, the Croix Sonore was built by Russian composer Nikolai Obukhov who was living in France at the time. He apparently saw a demonstration by Leon Theremin first-hand in 1924 and worked with Michel Billaudot and Pierre Dauvillier to build a prototype instrument in 1926. It was later refined and re-introduced in 1934, the date of this recording.
While the instrument was based on heterodyning oscillators and was played like a theremin, the electronics were housed inside a large metal sphere with a crucifix extending from the top (hence the name "sonorous cross"). You can learn more about La Croix Sonore at 120 Years of Electronic Music.
At the time of writing, the auction has no bids and is asking for a starting bid of $199. This is a rare opportunity to hear a very rare instrument in a composition by its inventor. Good luck!