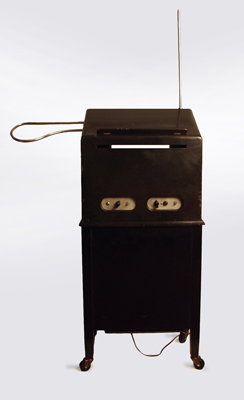 Retro Fret has recently posted for sale an original theremin built by Leon Theremin himself! According to the listing, the "Custom Soloist" model was discovered in a basement in a home in Sheepheads Bay, Brooklyn, NY. Coincidentally, as the listing notes, Leon Theremin's wife, Lavinia Williams, also lived in Sheepshead Bay. It is unknown how the theremin ended up in this home.
As user coalport notes in this forum post, this theremin might actually be a Teletouch model. After RCA stopped productions of theremins, Leon Theremin created the Teletouch Corporation to continue building theremins and other theremin-like devices.
You can view the full listing here. Contact the seller for pricing. We hope this one ends up in a museum so it doesn't end up lost for another ~75 years again!
Update: We've posted a photo gallery of the images for archival purposes. If any of our readers in the New York area get a chance to see it in person and take additional photos, please let us know and we'll be happy to add them to the gallery.