Mike Buffington of RCATheremin.com shares a few thoughts on the registry that he and collaborator Andrew Baron have worked so diligently to keep up, and presents some images of notable RCAs that have appeared in the last few years. To browse the registry yourself, visit https://rcatheremin.com/registry.php
In the years before the launch of RCATheremin.com on February 28th, 2012, Andrew and Mike had independently studied the ground-breaking registry postings on Thereminworld.com. Additionally, each had been keeping track of theremins separately, and ultimately compared and combined their lists. When they launched the site, which included the officially adopted and reinvigorated registry, the number of unique known theremins more than doubled to 73. 
"What started as a website to provide the information that we ourselves would have loved to see when we were becoming enamored with the RCA Theremin, expanded into filling in a lot of gaps that we saw were being overlooked. On eBay and various forums, we saw people selling RCAs, seeking information and inquiring about repairs. When we began collaborating on the new website, I was a new RCA Theremin owner and had constructed my own working RCA replica. Andrew, with his  own home-built Moog 201 and original RCA Theremin, shared a lot of great wisdom and advice. We realized that we were probably not the only ones who would benefit from this info, and thus the idea for RCATheremin.com was born. Just as in Field of Dreams, 'if you build it, they will come' quickly became a reality."
With Mike's meticulous note taking, they were able to timestamp newly registered theremins and graph the results.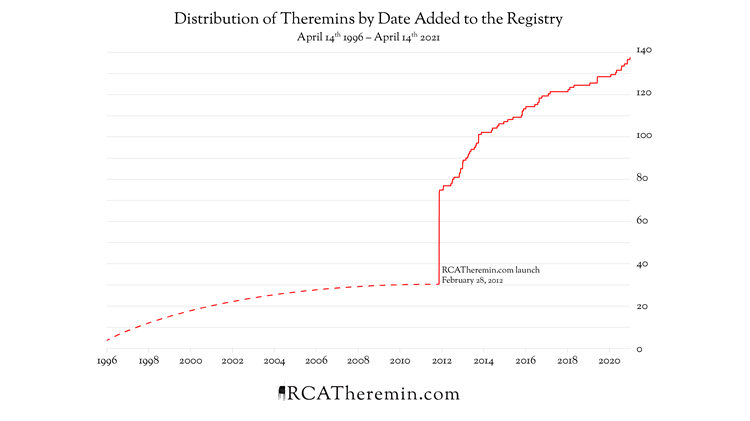 "The graph is a little misleading before 2012. We didn't just find 43 theremins overnight! There was a lot of work reconciling duplicate entries, verifying known theremins, and sniffing out those truffle-like instruments that we caught a whiff of some time before. After the site launch, the data is pretty accurate. You can see strong growth in the first years. In places there are jumps of three or four theremins added at once, and then a lag, then it picks up again. We find that theremin activity seems to come and go in waves (no pun intended). When it rains it pours!" 
"We've also added different ways to view the Registry. When we were building the site, Andrew sent me an email with an image of a map with pins in it. He said, 'It would be a lot of work, but it might encourage submissions.' I immediately saw the potential of using Google Maps and geocoding. It really wasn't that hard to implement, as we had a lot of the data already. It's great to see where RCAs have landed (by zip code, not exact address) or if there's an RCA Theremin in a museum nearby."
"I think one of the driving forces for me to keep the registry and site constantly updated is that I get a lot of joy and excitement seeing a new RCA Theremin, either in photos or in person. There's always something to discover. We've seen a range of theremins come up over the years, from pristine trophy pieces to well used and road worn, from historically significant to 'this old thing that just sits in the corner.'"
"Here are some photos of some interesting theremins. Two of these have fascinating histories, the other two have been lost. One is the most pristine examples I've ever encountered and sounded so beautiful, while another one was put into a new heart-shaped cabinet for church performances. A few theremins that were given a second chance by being used in evangelical ways likely kept them from becoming lost forever."
"A brand new discovery that was only added to the registry last week is Lucie Rosen's own, long lost RCA! Lucie gifted it to the musician Elena Moneak in 1942. When Lucie had it, it was modified by Leon Theremin, in similar ways that he modified Clara Rockmore's, and it is housed in a cabinet—even though it was customized by Lucie—that is otherwise identical to the Lev-built RCA-like theremins."
To see more of the Lucie Rosen RCA, go to https://www.rcatheremin.com/registry.php#!100158