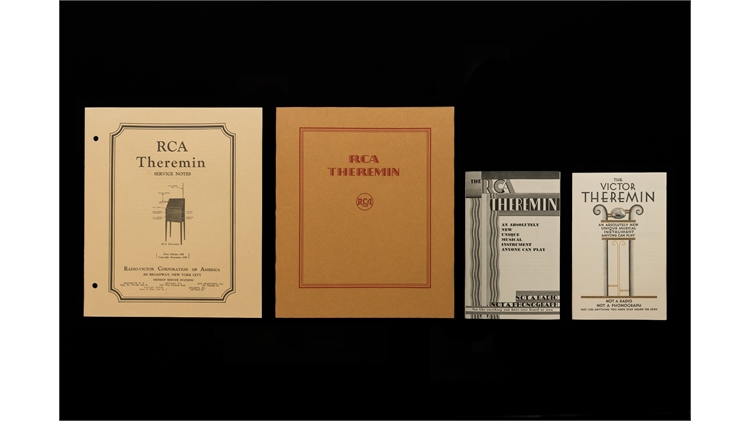 Mike Buffington of
RCATheremin.com
teamed up with
Forgotten Futures
, the non-profit organization founded by the multi-instrumentalist Wally De Backer, also known as Gotye, to create reproductions of four rare documents about the RCA Theremin.
In line with their mission to revive lost and forgotten yet vital artifacts of electronic musical instrument history, Forgotten Futures have published and made available for purchase these documents which were painstakingly recreated from surviving original copies to match the originals in every detail by the designer and theremin authority, Mike Buffington.
Mike scanned his collection of these original documents at a very high resolution, and he meticulously cleaned and restored each page to capture every detail. Mike crosschecked with other photocopies to differentiate small printing errors against oddities in the original printing plates which give these nearly 100 year old documents their character. He also sought to match paper stock and ink colors where possible, working with the printers to match special brown and red inks to get things just right.
The four documents reproduced are the RCA Theremin owner's manual, the RCA Theremin Service Notes, a trifold sales brochure on the RCA Theremin, and another later version when the theremin was rebranded as the Victor Theremin.
The RCA Theremin owner's manual reproduce the only known copy in a personal collection. Many will be familiar with the content, but instead of multiple-generation black-and-white photocopies, this document captures the full fidelity of the images, line art, and text in a stunningly beautiful and professionally printed booklet. Other reproductions that exist for sale do not have a brown heavy weight cover because those who created them did not have access to an original copy. This is the most faithful and clean copy that you can find anywhere.
For the RCA Theremin Service Notes, the original source was the exceedingly rare stand-alone document which is of higher quality than the subsequently reprinted information as part of the RCA Victor 1929 – 1930 Service Notes "Red Book." The first edition photographic images and line work have never before been reproduced at this quality. Additionally, a small number of material errors in the original have been corrected to aid contemporary owners of RCA Theremins, as well as experimenters who wish to recreate the instrument using authentic specifications. The Service Notes are as valuable today as when first published, and Forgotten Futures and RCATheremin.com are pleased to make this available to the theremin community.
Original trifold Sales Brochures, if you can get your hands on a copy, are very fragile and precious, and the sales language for this unique and strange instrument provides an enlightening time-machine window into the birth of electronic music. Esteemed thereminist Peter Pringle said, "These brochure facsimiles are of a higher quality and far easier to read and to handle than the originals! This is really excellent work."