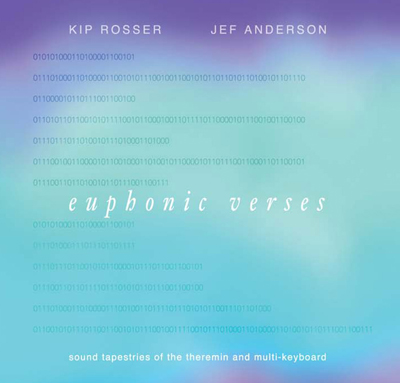 The new CD

Euphonic Verses

by thereminist Kip Rosser and keyboardist Jef Anderson is now available on Kip's site and worth checking out.

It's a classical album that successfully spans a variety of styles in a unique theremin song book. There's a great combination of old favorites and pieces that seem like they always should have been. The songs from Joseph Canteloube's rarely heard "Chants D'Auvergne" translate beautifully to the theremin. Both movements of Hector Villa-Lobos's "Bachianas Brasileiras No. 5" are here: the well known "Aria" and the often omitted "Dansa". Astor Piazzolla's tango "Lo Que Vendra" is a delight to hear Kip play, it is perfectly suited to his style of volume technique and shows off the equal and dynamic part Jef Anderson plays in this ear pleasing concert of theremin music.

Here's the track list: L'Antoueno - (Canteloube), Bailero - (Canteloube), Allegretto Ben Moderato - (Franck), My Man's Gone Now - (Gershwin), Lo Que Vendra - (Piazzolla), Gnossienne No. 1, 2, 3 - (Satie), The Silver Swan (Gibbons), Funerailles - (Liszt), Adagietto - (Mahler), Bachianas Brasileiras No. 5 - (Villa-Lobos), Pastourelle - (Canteloube), I Give My Heart - (Millocker).

You can order the album on CD or download it at www.performancekr.com. Congratulations Kip and Jef!