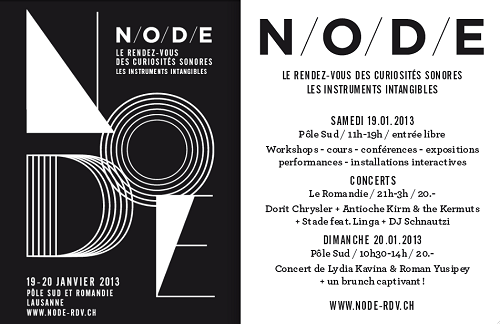 The first major theremin festival of 2013 is right around the corner!
N/O/D/E is dedicated to sound oddities, focusing on unusual instruments, forgotten sounds, bizarre music and the correlation between past and present. The Theremin is its emblem. It proposes occasional open-minded and playful events in the French-speaking part of Switzerland to discover, listen to or reflect upon the musical wealth of various microcosms, far away from the beaten path.
Half way between the convention and the festival, the next event takes place on the 19-20th January 2013 in Lausanne (Switzerland) and is dedicated to intangible instruments.
For more information, visit the festival's website: www.node-rdv.ch
Concerts : Dorit Chrysler, Lydia Kavina, Jimmy Virani & much more
Workshops : build your own theremin & much more
Theremin lessons with Lydia Kavina and Thierry Frenkel
Interactive installations : Terpsitone, Körpertheremin & much more
Conferences given by Lydia Kavina, Andrey Smirnov