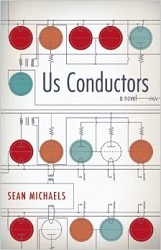 If you saw the film Theremin: An Electronic Odyssey and found yourself wishing for more of the romantically tragic tale that spun between Leon Theremin and Clara Rockmore, then look no further. A new work of fiction entitled Us Conductors explores what might have happened around the facts we're all familiar with.
Author Sean Michaels, perhaps best known as the creator of the music & mp3 blog Said The Gramophone, began writing the novel in 2009. His writing has appeared in The Guardian, The Believer, the Walrus, Pitchfork and at McSweeney's.
From the book's website:
"Us Conductors is a book of longing and electricity. Like Termen's own life, it is steeped in beauty, wonder and looping heartbreak. How strong is unrequited love? What does it mean when it is the only thing keeping you alive? This sublime debut inhabits the idea of invention on every level, no more so than in its depiction of Termen's endless feelings for Clara - against every realistic odd. For what else is love but the greatest invention of all?"
Us Conductors is currently available for pre-order on Amazon.com
and Sean Micheals' website and will ship on April 8 in Canada and June 10th in the United States.
Find more books about the theremin in our book store.