The New York Theremin Society is back in Brooklyn!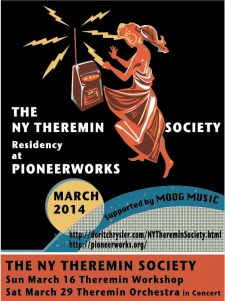 THE NY THEREMIN SOCIETY RESIDENCY at PIONEERWORKS
March 2014
supported by Moog Music
Interested in learning about the theremin or just playing out loud with a bunch of your fellow thereminists?
The NY Theremin Society will be giving a workshop March 16th and concert March 29th at Pioneer Works in Red Hook, Brooklyn. Beginners to experts welcome... and all participants will play together at the concert!
NY THEREMIN SOCIETY WORKSHOP
March 16th, 2-5pm
Pioneer Works
159 Pioneer St
Brooklyn, NY 11231
(718) 596-3000/1
Cost: $40
Dorit Chrysler, Rob Schwimmer & Charlie Hobbs
NY THEREMIN SOCIETY CONCERT
March 29th, 8pm
Pioneer Works
159 Pioneer St
Brooklyn, NY 11231
(718) 596-3000/1
Cost: $20
Dorit Chrysler, Rob Schwimmer & The NY Theremin Orchestra
This sounds like some great theremin fun! To Register email Dorit at elbocco@gmail.com