Page McConnell of the band Phish demonstrates his gear, including a Moog keytar and theremin in this short documentary film. The Big Briar Series 91 theremins, made in the early 1990's (and before Moog Music won back the "Moog" name), were beautiful instruments. There were 3 different models - the A, B, and C, as you can see below. In the documentary, McConnell walks us through the features of his Model A.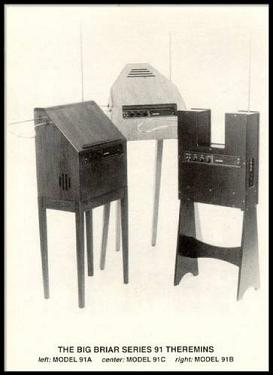 The Model B was inspired by Leon Theremin's own unique "U-shaped" theremin, as seen in the documentary Theremin: An Electronic Odyssey
(in the scene where Leon Theremin himself attempts to adjust the tuning of the pitch coil with what appears to be a pocket knife). The Model C was quite unique in design, and reflects one of Bob Moog's earlier attempts at reimagining the shape of the theremin - something he later mastered with the Moog Etherwave Pro. The two "towers" on the Model B house large coils standing vertically inside.
The true value in this video, I believe, is not in McConnell's playing, but rather in the preservation of information about the awesome Series 91 Model A.
Enjoy!