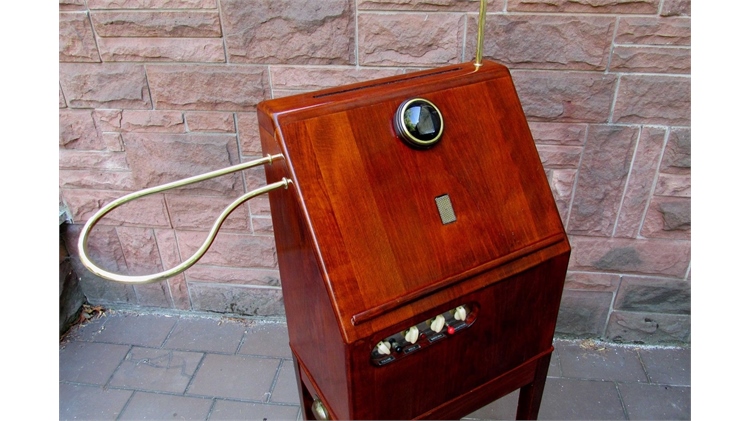 Seller "kazek69696969" from Lublin, Poland has posted this epic custom Etherwave theremin on eBay with a Buy It Now price of over $2300 USD.  
It appears to be housed in a restored RCA AR-1264 Theremin cabinet (or a pretty good replica - the poster claims it's made from beechwood) with modern electronics inside.  According to the photos and description, this customized instrument features an onboard MIDI converter, amplifier and loudspeaker, and a tuner housed in a steampunk-inspired "eye" on the front of the cabinet.  It's also been upgraded with Thierry's ESPE01 mod for improved low-end sound. The antennas are highly polished brass, and it even has an automobile-style "ether" emblem attached to the back.  It also appears to come with a custom diamond speaker and a set of antique boxes to house accessories and extra antennas.  "Pimp My Theremin" anyone?
As always, please use your scam radar when bidding on any online auctions, especially if they appear to be too good to be true.
We've captured all the photos of the instrument in a photo gallery.  Regardless of whether it's a scam or not, it's a pretty impressive piece of work!
Update: The seller has confirmed this is a homemade replica theremin cabinet.
View: Theremin Ether Moog Music
(eBay.com)