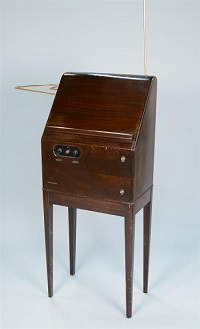 Auction house Grogan and Company has RCA theremin serial number 100034 currently listed for sale. The theremin appears to be in good (looking) condition, but they don't mention if it works or not:
AEOLIAN RCA THEREMIN ELECTRONIC MUSICAL INSTRUMENT, manufactured by RCA, Model AR-1264, serial number 100034, 490 on doors; circa 1930; Theremin label on inside door of case reads: Input volts 105/25 Cycles 50/6 and NP 48014; interior of case bears label from Jamestown Mantel Company, Jamestown, N.Y.; height: 47 inches; together with a BLACK AND WHITE PHOTOGRAPH OF PROFESSOR THEREMIN AND A BOOK;
Careful readers will note the mention of a black and white photo of Leon Theremin included in the sale. This caught my eye, as it appears to be an actual photo (to this untrained eye):
The items are listed as having been from "the E. Buk Collection of Technology and Invention, Christine Burgin Gallery, NYC, October 29-December 18, 2004."
Visit Grogan and Company for more details and to start your bidding, and good luck!
Thanks to CRL for the tip!