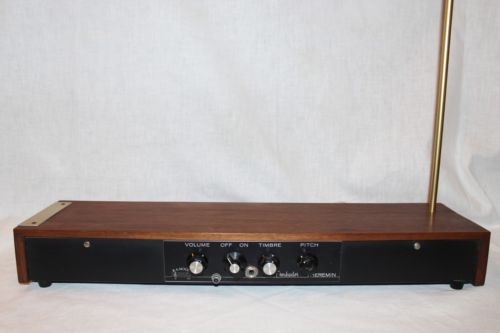 The History Center in Tompkins County New York has posted a Moog Troubadour Theremin for sale on eBay. The theremin was reportedly loaned to the museum for its exhibition, "Switched-On: The Birth of the Moog Synthesizer" and was later donated for fundraising purposes.
The listing includes a short description of the provenance of this theremin:
"In 1969, my sister and her husband, Walt Siering, moved to a farm near Interlaken along with their three children. He had been working for Walter Kidde in New Jersey, and before that had been with other electronics firms. There being few such operations in Ithaca, he was fortunate to get a position with Robert Moog in Trumansburg. As an electronics engineer/technician (I'm not sure how his position was described) he worked in the Moog factory, probably helping with design and board-level troubleshooting.

At the time, I was working in New Jersey as a broadcast engineer at WPAT-FM/AM. In, probably, 1971, he presented me with a Moog Theremin, undoubtedly constructed in Trumansburg, complete with gold-colored antenna rod and walnut case. The story I heard was that Bob Moog had acquired a couple of walnut trees, had them sawn and dried, and they were used for most of the instruments built at the Trumansburg factory.

For most of its life, this theremin lived either in my music/recording room, or, for the past three years, was in a storage locker less than a mile from the Trumansburg Moog factory. When I brought it out to loan to The History Center, I fired it up (gently — paying attention to aging electronics and possible problems) — and found it still played. I had last used it for demonstrations to classes in recording technology at Ithaca College. I suspect some of the components could use replacing, since it seems to lack some sensitivity, but then it has always behaved like this. One is reluctant to make changes in a genuine vintage instrument.

As far as I know, all parts are original. However, it may be a one-off, since I believe the circuit board is breadboarded (have not looked inside in a while) and not a production line item. I'm not sure Moog was turning out theremins for sale in the early 1970s."
The mention of the breadboard is noteworthy; either this was a prototype unit of some sort, or the original board was replaced at some point. Unfortunately, there are no photos of the inside of the unit for us to evaluate. As always, with any online auction, we suggest doing a bit of research on your own to make sure you're buying a legitimate item.
As you can tell from the photo, the Troubador theremin bears a striking resemblance to the modern day Etherwave Theremin. The Troubador was an evolution of the earlier Moog Melodia kit theremin and added a front panel with knobs to adjust volume, timbre, and pitch. The volume antenna was a brass plate on the left side of the unit.
As of this posting, bidding for this item has reached $707. A similar Troubador theremin sold back in 2005 for a little over $1000. Not a bad markup, as these originally sold for $160 according to MoogArchives.com.
Many thanks to the readers who pointed this sale out to us!
View the auction: Moog Troubadour Theremin (c. 1961)
(eBay.com)