In celebration of the 100th anniversary of the theremin, Moog Music have introduced a gorgeous new limited edition theremin!
Meet the Claravox Centennial Theremin.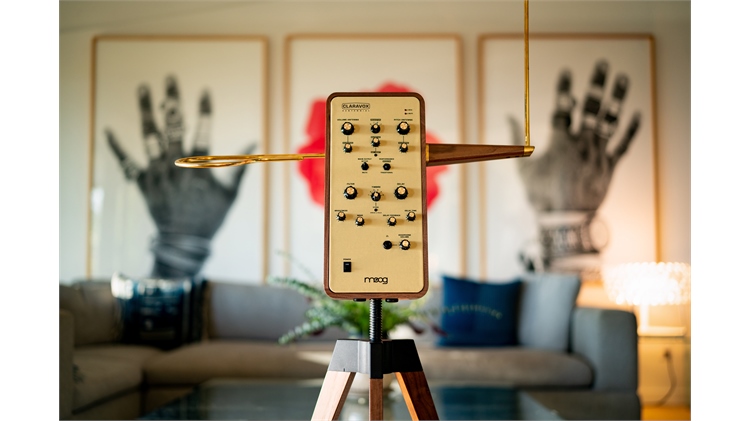 Named as a tribute to the original theremin virtuosa, Clara Rockmore, Claravox Centennial offers the highest quality control and sound available in a theremin for today's top performers and aspiring thereminists.
Stunning From Every Angle
Where to even begin describing this beauty? At first glance, the Claravox is stunning. Featuring brass antennas, cloth-bound control panels, and a beautiful fine-grain walnut hardwood cabinet, it pays homage to the original hand-crafted history of the instrument. An optional walnut tripod stand completes the aesthetic and provides an adjustable stable base.
Drawing on the company's decades of experience building electronic musical instruments, Claravox Centennial is the most versatile Moog theremin to date. Players can switch between Traditional mode that uses classical heterodyning analog oscillators and Modern mode that generates sound via multimode DSP oscillators. Modern mode also includes assignable scales, quantization, and octave ranges. Add in an analog wave-shaping circuit derived from the legendary Etherwave Pro to unleash rich harmonics, and route everything through the built-in analog BBD delay for beautiful echos and warmth.
Did I mention versatility? It's also available in a left-handed configuration!
Front And Back Panel Walkthroughs
Now let's take a deep-dive through the front panel.
Starting at the top, we see tuning knobs for the volume antenna on the left and pitch antenna on the right with a selector for octave (register) in the center. The smaller response knobs below the Volume and Pitch knobs likely aid in fine-tuning how each antenna responds to the players gestures. The Quantize knob nestled between them should control how much of the quantization effect is employed, similar to the Theremini. The "Set Root" button will allow you to set the base note of the scale for quantization. Below that, a mute switch for the main output allows the instrument to remain on while warming up without needing to resort to familiar tricks such as hanging the audio table over the volume antenna to prevent "growling" as the tuning drifts. Next to that is a selector switch to toggle between Traditional analog mode and Modern DSP mode.
Moving down, we see a Filter knob with smaller Brightness and Wave knobs below it. Is this a traditional Moog Ladder Filter? I sure hope so! We also see a 6-position timbre selector, likely used in Modern mode to switch between digital waveforms. To the right are the analog BBD delay controls with knobs for mix, feedback, and delay time. Rounding out the front panel are a headphone jack and volume knob and the main power switch.
Turning the instrument around, we see a USB port, MIDI In/Out, inputs for sustain and expression pedals, outputs for Pitch and Volume CV, a dedicated tuner output, and a monophonic audio output jack.
Both the front and back panels are cloth-backed, and I'm personally a little curious about its long-term durability and cleanability. This is an interesting material choice, and time will tell how it holds up.
Ok, enough about the features. You're probably wondering how it sounds. Moog Music teamed up with French musician Grégoire Blanc for a demonstration set among the baroque architecture and expansive gardens of Château de Vaux-le-Vicomte. Blanc channels theremin marvel Clara Rockmore in a stunning performance of Claude Debussy's "Clair de Lune" alongside pianist Orane Donnadieu. This tribute to the timeless classical duets of Rockmore and her sister, pianist Nadia Reisenberg, captures the beauty of the theremin's distinct tone and personality—characteristics that will continue to captivate audiences into the next century.
Pre-Order Today!
Claravox Centennial is priced at $1499 USD and is now available for pre-order from select Moog Music dealers with shipping expected to begin in December 2020.
Each Claravox Centennial instrument is shipped from the Moog factory in Asheville, North Carolina with all of the following:
Detachable Wooden Pitch Arm
Detachable Pitch Antenna
Detachable Volume Antenna
Power Supply
Certificate of Authenticity
Owner's Manual
Product Catalog
Registration Card
Learn more about the instrument at MoogMusic.com.
Final Thoughts
I'm personally very excited about this instrument. I've been advocating for a new professional-grade model from Moog at every opportunity ever since the Etherwave Pro was discontinued. Serious thereminists have either had to purchase an aftermarket 'Pro at steep premiums or take their instruments on the road knowing that if anything unfortunate happens to them, they were essentially irreplaceable. I haven't had a chance yet to try a Claravox Centennial first-hand, but from the photos, feature description, and Grégoire Blanc's beautiful performance, it sounds wonderful to me.
Overall, I feel Moog Music have outdone themselves with the Claravox Centennial, and I expect every serious thereminist will want to take a very close look at it.
What do you think about the new Claravox Centennial Theremin from Moog Music? Head over to our forums to let us know!