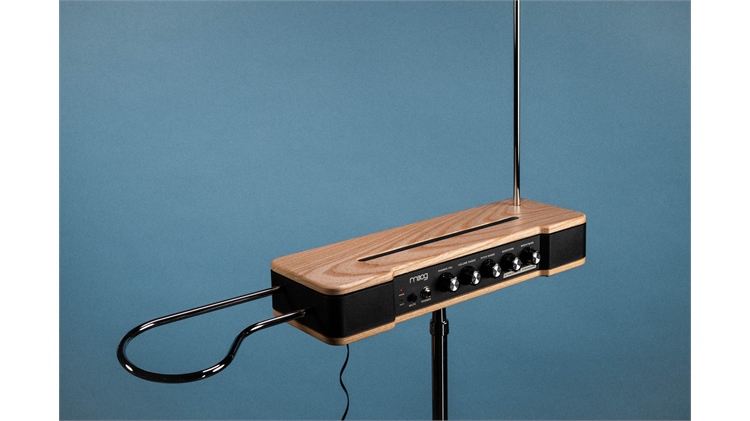 Ever since Bob Moog introduced the Etherwave theremin in 1996 under the Big Briar name, its design has been relatively unchanged... until now.
Now, Moog Music has combined features from the Etherwave Standard and Etherwave Plus theremins into a new instrument simply called "Etherwave Theremin".
The new model boasts a refined case with what appears to be an air vent in the top and does away with the hardware store plumbing bolt mounting approach. An indented front panel includes a full sized knob for headphone volume among the traditional knobs for pitch and volume antenna response, waveform, and brightness.
Additionally, Etherwave Theremin features:
Improved bass response and stability in the lowest registers

Updated antenna connections to enable quick assembly and easy removal for travel

Quick-release mic stand adapter for attaching and detaching the instrument from mic stands (YES!) 
Mute control for setting the instrument into a standby mode or used for "pitch preview" via headphones

CV output integration from Etherwave Plus (Gate Out, Pitch Out, Vol. Out)
 for connecting with other modular, semi-modular, and CV-controlled instruments
To keep your Etherwave Theremin well protected between gigs, Moog Music has also introduced a new SR Series padded case.
How does it sound? To see for yourself, check out The Octopus Project's recent performance of their 2007 track "I Saw the Bright Shinies" featuring the Etherwave Theremin and a number of other vintage and modern synthesizers. 
You can also hear the Etherwave Theremin's ability to span a wide range of styles and genres on Lost In The Ether, the new EP from Grégoire Blanc. "This little four-track album is the result of some very spontaneous improvisations. Four short electronic pieces where the new Etherwave Theremin is, of course, the main character." Blanc says. You can listen here to Lost In The Ether on SoundCloud.
Personally, I'm very excited about the updated design as I believe it brings much-needed features to the Etherwave Standard and I really like the new look. 
To learn more about the new Etherwave Theremin, click here.